Dear Dancing Friends. Due to COVID-19 all classes and parties are on hold, except private lessons. We pray that you all stay healthy and we can see you soon. Because we cannot be with you in person, we want to provide you with a "distant learning" opportunity. To see video reviews of many of the patterns we taught at different classes during this interrupted semester, and to view tutorials of various dances, please click Dance Classes and go to "Distant Learning." We also keep adding tutorials as announced in our email memos. We are optimists! Still hope to start Summer classes on June 11th and our annual Dancing Under the Stars Gala Garden Party on July 25th. For details, click Dance parties and events. We wish you all good health and a quick Wiedersehen! Esther and Mark4> Dance Events
For a printable 2020 Spring/Summer Dance Events Brochure, click: Dancing with E & B
For monthly memos on dance events and distant learning, click Dance parties and events.
Dance Classes
Ballroom, Latin and special dance classes are held at various locations and are sponsored by various organizations. These include: Arlington High School; Marist College CLS (members only); Dutchess BOCES; Arlington Reformed Church,

Private classes and wedding choreography are available by appointment.

Dancing Makes you Smart - a demonstrated lecture is available. It summarises a study by Albert Einstein College of Medicine showing why social dancing wards off dementia and Alzheimers. For more information and to schedule the presentation, Click here: Dancing Makes you Smart,

For details, and a 2020 spring/summer class schedule click Dance Classes

Some of the Arlington High Scool students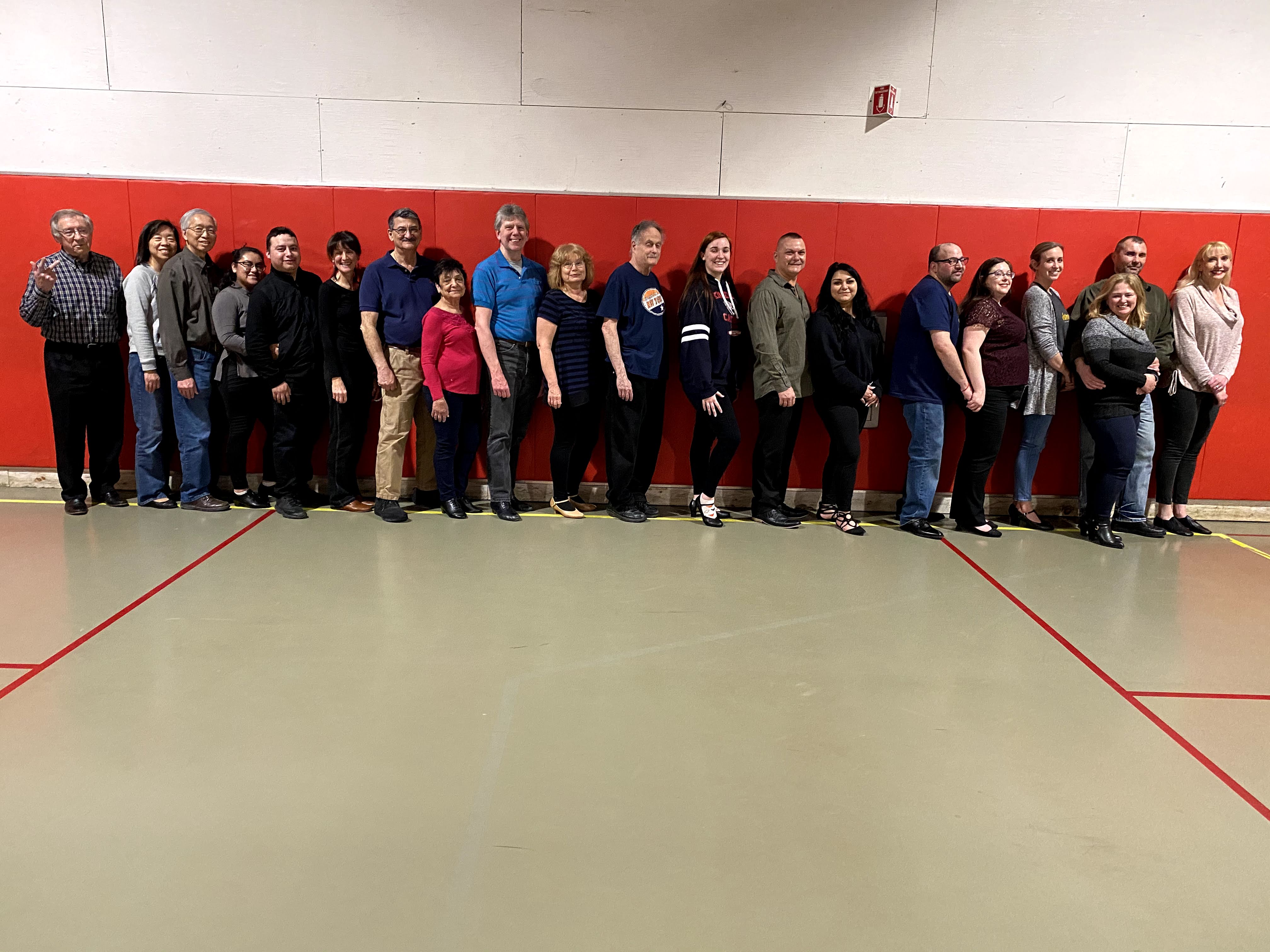 Some of the BOCES students

Part of the ARC winter class
Fun stuff
For recent Fun Stuff, click: Recent fun fun fun
Formal affairs are always fun
Some of us at the Strauss ball in February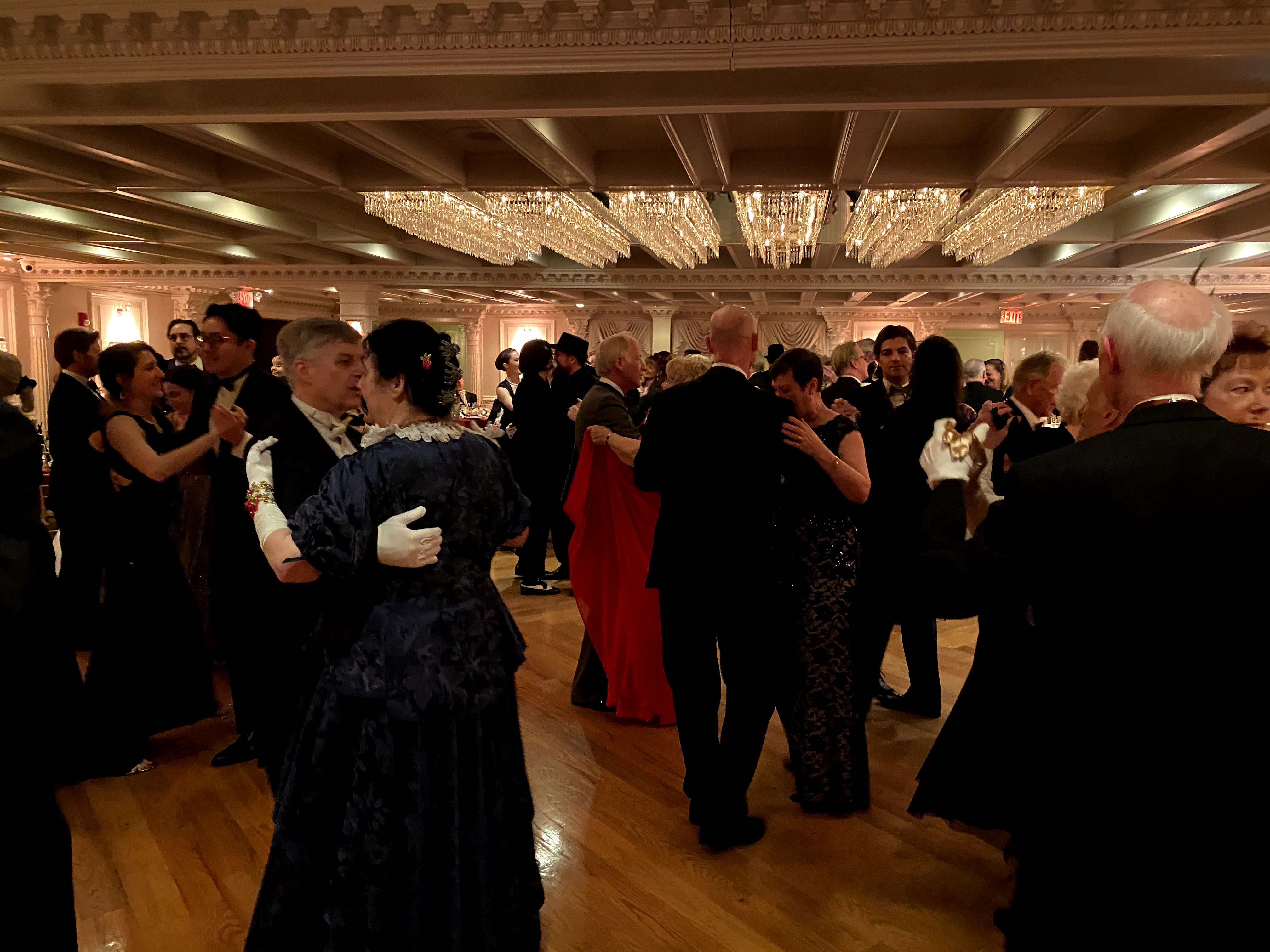 At the Srauss Ball - Februry 29
Ballroom and Latin Dance Club of the Hudson Valley
The Dance Club (BLDCHV) holds its monthly dance in various Locations in Dutchess Country. Mostly dinner dances, tea dances, "Biergarten", wine tastings and an annual Dancing Under the Stars Gala. All selected locations have hard-wood floors and lovely ambiance. Club members receive a discount at all affairs. Live music! Reservations required. Members and guests are most welcome!

Save the date for the Dance Club's annual Dancing Under the Stars gala dinner dance on Saturday, July 25th.

<!

For more information and to view the 2019 Dance Club Schedule click BLDCHV
WINE-TASTING Dance Party
You are all invited (current and past students and dancing friends) to our Graduation Wine-Tasting Dance Party on Thursday, June 4, at 7 pm at the Arlington Reformed Church Hall, 22 Raymond Ave. POK. Dance demos, dance mixers, great food and wine! We will honor and thank our Dancing Angles who make our classes so much fun. It is an evening to enjoy each other's company, raise our glasses for a toast (if you are too young, a glass of soda will do!), savor the wonderful spread of our dancing chefs and dance, dance, dance. Ladies, please bring hors d'oeuvres, munchies or a dessert and gentlemen a bottle of wine. Join us for an evening with lots of dancing and wonderful friends. Donation For Dance party pictures, click BLDCHV and Gallery of Photos
Where can you go dancing?
Many area private Clubs have ballroom/Latin dances at regular intervals. To find out about them, click, BLDCHV and see the Dance Club schedule. Also click Dancing Opportunities for other venues. <!